[ad_1]
A collection of surfboards continues to grow in the far northwest of Tasmania, as well as a museum project.
Over 100 surfboards from a bygone era are crammed into Phil Critchlow's shed in the famous surf town of Marrawah.
The veteran surfer started collecting boards about three years ago.
"I decided I would like some surfboards that could decorate the shed initially, just a few to put around the wall and it kind of grew from there," Mr Critchlow said. .
Some boards were found at the tip or in second-hand shops, while others were given to him.
The floodgates opened when he ran an ad in the local newspaper.
"The collection can be a bug… I didn't ask for this, but what has turned out here now is a historical collection for which I am responsible," he said.
Each painting tells a story
One was given to him by professional surfer Mick Fanning during a visit to the big wave spot Shipsterns Bluff in Tasmania, just weeks after being attacked by a shark.
Others have sentimental value, like the one designed by a former roommate in Torquay in the 1970s.
The first boards date back to the 1950s and are kept to preserve the history of surfing in Tasmania.
"The more hits the better because it means it's been used enough and someone has had a lot of fun with it," Mr Critchlow said.
Some boards he can't take for his collection, however.
"I went to the people and they go, 'see that ding there in my forehead, that's where the nose hit me on the dots', and I sit down and I say 'no, I don't' don't have that ', and I find a place in their shed, I clean it out, that's where it should go. "
His son Zeb, a big wave surfer, admires the collection.
"It's a pretty epic collection, I would love to be able to ride the boards but unfortunately it won't let me get close to it," he said.
The collection grows so large that it quickly becomes too big for the shed.
"I'm really surprised how he got hold of such beautiful boards, they really are historical artifacts," Zeb said.
Mr Critchlow is now considering establishing a museum in Marrawah.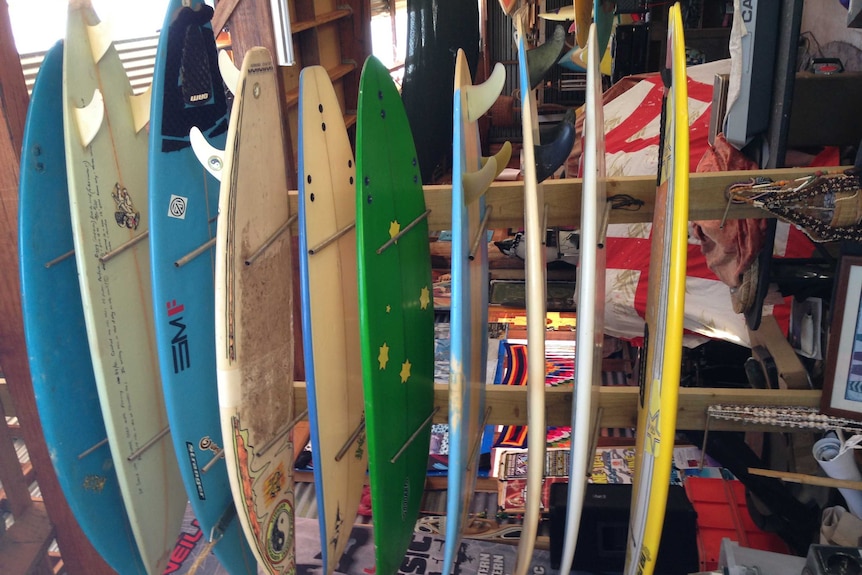 [ad_2]